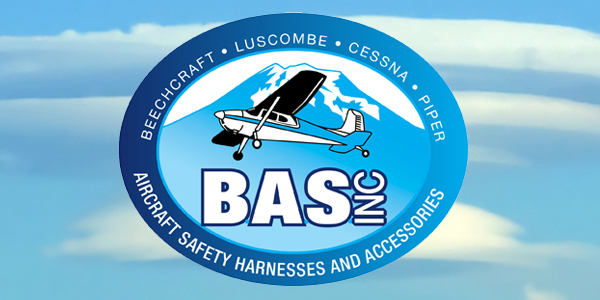 Installation Notes
Cessna C170, C170A, and 200 Series
Special Note for C170 and C170A
Mounting nut plates were not factory-installed in carry-through spars of models C170 and C170A. for these aircraft, drill a 13/32-inch hole in the bottom of the carry-through spar, at the center of the cabin. Next,mark the locations for installation of the Mounting Brackets, Part No. 1 (PN-1). Do this by placing PN-1 against the carry-through spar approximately 10 inches from the cabin center (one piece to the right, the other to the left), and adjusting its position slightly so that the edges of its upper flange are located symmetrically with respect to the adjacent rivets. Using PN-1 as a template, mark the required mounting holelocation on the bottom of the carry-through spar. Note that these holes must be in the exact fore-and-aft center of the spar's bottom surface. Next, drill #11 holes, using a B.A.S, Inc. supplieddrilling jig or a nut plate as a guide and drill two 3/32-inch rivet holes for attaching a nut plate to the inside of the carry-through spar. Alignment of these holes is critical, so be careful to position them accurately.Insert nut plates through the center 13/32-inch hole, and move to either side with a magnet. Alight the nut plates over the #11 holes and secure 3/32-inch zinc-plated steel pop-rivets. See note on use magnet below.
Note: Alternate method for installing the nut plates in the carry-through spar.

On the top of the cabin, locate the center line of the carry-through spar and measure outboard approximately 10 inches and bore a 1/2-inch hole in skin. Note: A step drill or Unibit works very nicely for this. You can now insert the nuts down through the holes and hold them in place while a helper installs the rivets. The 1/2-inch holes can be plugged with the supplied Tinnerman washer screw and special sheet metal tab nut. Also use a small amount of sealant.

Special note for 200-Series Aircraft
Factory installed mounting nut plates must be relocated approximately 2 3/4 inches outboard (or inboard, depending on year of manufacture) so that the Mounting Bracket (PN-1) will fit adjacent to the flange of the fore and aft reinforcing hat channel on the cabin roof. Drill holes for nut plate at new location using a B.A.S., Inc. supplied drilling jig before drilling out rivets. Insert 10-32 machine screw in the nut plate to secure it while the rivets are being drilled out. Use a magnet to move the nut plate to its new position. See note on use of magnet below.

Note on use of magnet:
Practice with the magnet and a nut plate on a flat sheet of aluminum. Some magnets tend to roll the nut plate rather than sliding it.
---