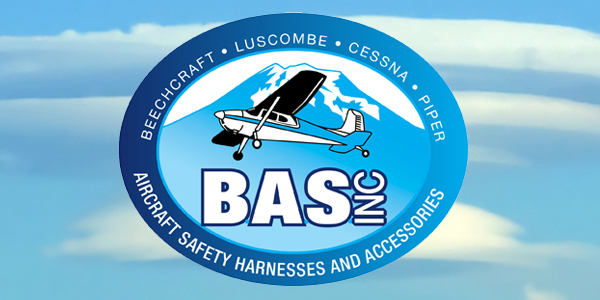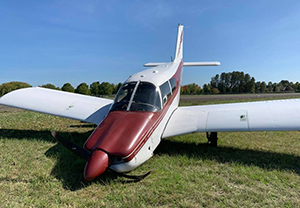 Today, our workhorse trainer, PA28-180 affectionally known to us as "Ruby" had an incident during landing phase of flight. A gust of wind lifted up one wing causing the aircraft to skid sideways towards a grass area adjacent to Runway 34. Side load and sudden contact with rough grass sheared the nose strut causing the propeller to hit the ground. The pilot was not hurt thanks to a recently installed shoulder harness acquired from #BASIncShoulderHarness which prevented the pilot from impacting the instrument panel and/or the control yoke. We are grateful there were no injuries as aircraft can be replaced easily. The pilot will continue training in one of our other aircraft. FAA will be onsite this week to investigate the cause and do their due diligence. Afterwards, the aircraft will most likely be totalled by Insurance company. We will miss "Ruby" as she has served us well for past 2 years.
Infinite Air Center
---

My last post about N4326X which crashed on December 14th. The NTSB has informed me that their inspector revealed the #4 cylinder pushrod came apart resulting in a camshaft failure catastrophically. Maintenance records were all A+-no issues. Nothing could've predicted the failure nor prevented it. Engine had 1600 hrs on it. Interestingly in the last year these engines have had 4 identical failures all with about the same hours on them and all engines being about the same vintage. I was very fortunate to sustain only 5 broken ribs, broken sternum, 2 broken collarbones, collapsed lung, and pneumothorax. Thankfully I had BAS shoulder harnesses installed after I bought her. The harness no doubt saved me. Thanks to all for the support over the past several weeks."
Bobby Jones
---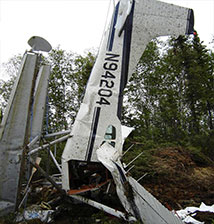 Taken from an accident report from the National Transportation Safety Board: In the pilot's written statement to the NTSB he credited his survival, as well as his passenger'ssurvival, to a recently installed BAS, Inc., four-point shoulder harness and lap belt restraint system. He wrote, in part: "The BAS seat and shoulder harness [system] installed saved our lives, and we escaped without any internal injuries."
---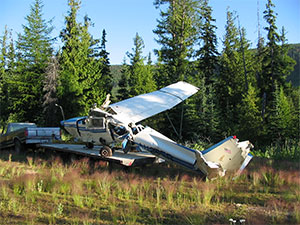 Bud,
Thank you for stopping by the Boundary County airport yesterday.  It was a pleasure to meet you.  I have attached photos of the accident site that I told you I would send.  The pilot had his license about 6 months and was inexperienced.  He had one passenger with him.  The pilot flew too low in the mountains and was caught in a downdraft that he could not get out of.  The pilot only had a few scratches, but the passenger was in serious condition.  The passenger had some broken bones and head trauma.  From the photos it is hard to believe that anyone survived.  We credit your should harness restraint system for saving their lives. 
God bless  you, Tammy Blanford
---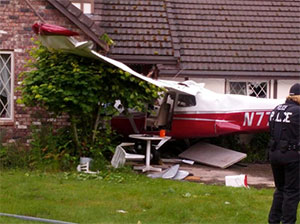 Hello Jim,
I was the pilot of the 172 that crashed into the house at the end of Swanson Airport. Your product really did it's job, it may have saved my passengers and my life and at the very least prevented any serious injuries (we received minor cuts and bruises). Also they were way more comfortable than stock harnesses for all the time I had flown with them. The previous owner of that plane had installed them,  but your harnesses will be  the first upgrade in any airplane I may own in the future. Please, feel free to use any footage from the accident on your website or ads.
I understand that you live on that airport. If you know the owners of that house, please pass on my sincerest apologies.
Thanks for making a great product
Matt Reid
---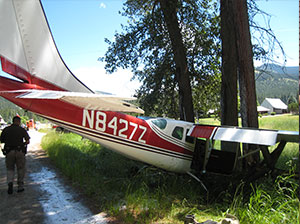 Jim,
Thanks for the information today when we talked about re-cycling my B.A.S. harness.  Attached is a photo of the final landing spot for my Cessna 205, N8427Z.  The harness did its' job and held me and the passanger in our seats.  We got out of the plane with minor injuries because of your product.
I hope to close a deal on a replacement within a week or two, and I thank you for offering the price of $940 for a replacement pair.  I'll be in touch.
Rich Finkle
---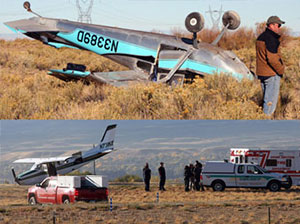 Hey guys, Thanks for the concern. What a wild day!!

We were in a descent (getting out of the headwinds after topping the clouds) along the face of Grand Mesa. I was looking out the right window at the mesa when my father yelled my name twice. I looked and the ENTIRE windshield was full of 210. I instinctively pushed, heard him go over and heard the impact (all three at once!). The 180 started a hard yaw to the right and also started rolling to the right. After 270 degrees of heading change I found that full left aileron would keep us going straight (although in one hell of a slip). Luckily we were now headed away from the mesa (west). I found that below 80 mph I would get a wicked roll/yaw reversal (that really sucked, I thought we were goners). I let the GJT tower know what was going on and started to prepare/secure for arrival. Luckily (again) we were headed for open terrain. I gave the tower a 20 second call and shut everything down. 80 mph and full left aileron to the ground and then I started a flare. I could feel the airplane starting a reversal so I planted it and stood on the brakes (I wanted on the ground soooo bad ... )

I will tell you right now that BAS harnesses rock!!! We had the doors open prior to impact, a good thing 'cause that 180 .
is about a foot shorter than it was. We crawled out, gave each other a great big hug and started making phone calls.
Many thanks to the Mesa County Sheriff's Dept. Those guys/gals were great!

It all seems like a dream right now, I am really glad the other guys made it as well.
Tom
---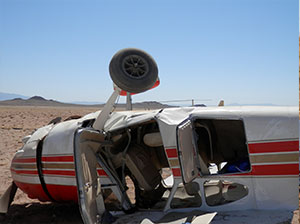 On Sunday, 4-28-13, at apx 9:50am my passenger and I survived the total loss wreckage of my 1953, Cessna 195B.
At the time, while hanging upside down, the BAS shoulder straps had kept us from impacting the panel and were keeping us suspended with only minor hand and arm injuries.

I have and intend to continue telling any one that will listen, flying without the BAS inertia straps/harnesses is literally taking your life in your hands.

Thanks for your system seems very understated. I'm not sure the accident would have been otherwise survivable.
 
Ron Harmon, KAEG
---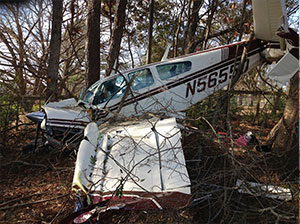 Jim,
I am writing to thank you for your product.  As you can see,  my son and I used your harnesses on thansgiving day,  when I had to set er down in a field near Birmingham...engine blew up. Would be a testifier for your BAS anytime, anywhere.  
By the way, your harnesses worked perfectly during our crash of N5655D. Last thanksgiving we hit a tree on roll out and ended up with sideways force which tore off the door. My son remembers laying outside on the walkway.

Go to you tube: Beech Bonanza Crash Thanksgiving to view the video takenby my son's iPhone!!!
Eagle
Kent Ewing
---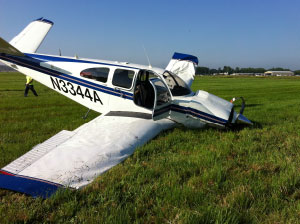 Jim: On short final into a grass field in July 2011, our Bonanza became too slow to fly and suf-fered a stall approximately 20 feet above the ground. All four of us walked away from the accident. We are sure the BAS shoulder harnesses saved the pilot (my husband) and passen-ger in the front seat from what could have been serious injury. We know they worked and high-ly recommend them to everyone. We just ordered and received harnesses for our new Bonanza. Thank you for making these available.

Kay Rousselle
---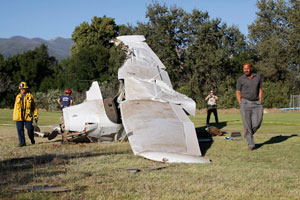 A few weeks ago I purchased a shoulder harness kit for the Cessna 182 pictured. That's me walking away after catching a tree with the right wing during a forced landing after engine failure. I will send some more photos. I am convinced I would not have survived this without your shoulder harnesses.
thanks.
Mark King
Santa Paula, Ca
---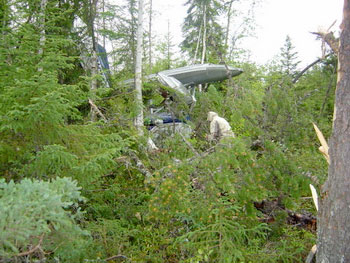 Hello Pascal,
I want to thank you for insisting on including BAS shoulder harnesses in our 182 floatplane. They saved two lives. The paramedics from the Canadian armed forces that skydived to the rescue could not believe there was nobody dead. These guys must have repeated 6 times that the harnesses saved the lives of Daniel and his father in law. Great father's day gift.
Thanks again,
Fernand Croisetière
---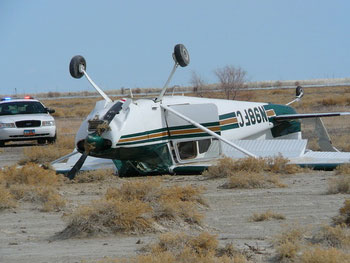 Dear Bud,
I want to start this letter by thanking you for developing and selling your BAS Shoulder Harnesess. My flying partner and I had the unfortunate experience of finding out just how well your BAS Shoulder Harnesses perform when we were involved in an accident while flying our Cessna 180.
My partner, Rick, was performing some touch-and-go's at the Wendover Utah airport. He had just touched down when, due to a mechanic's negligence, the right brake seized causing the plane to veer sharply to the right and start heading off the runway. While Rick was trying to get the plane airborne again we found ourselves racing along the desert floor. One of the wheels hit a mound of dirt hard enough that it caused the plane to slam nose first into the ground, flip over its nose, become inverted and skid to an abrupt stop.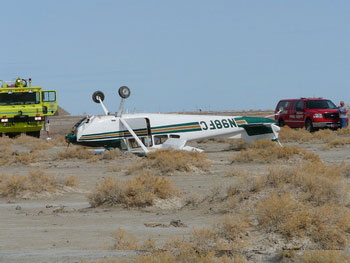 The impact of this accident could have easily caused us major head trauma, lacerations or broken bones but the harnesses held us tightly in our seats preventing us from slamming our heads into the instrument panel and saving us from what easily could have been life threatening injuries.
I have told many pilots how well your harnesses performed and can think of no reason people flying planes would fly with out shoulder harnesses. As you know, we have just ordered new front and rear seat harness for our newly purchased Cessna 206.
Thanks again,
A. Scott Paterson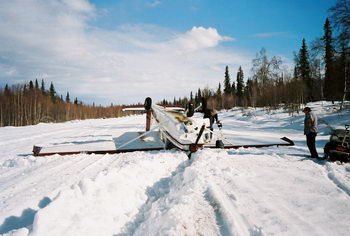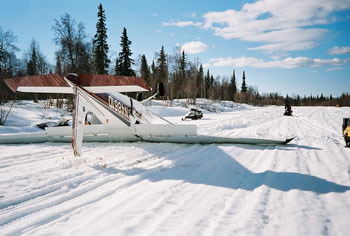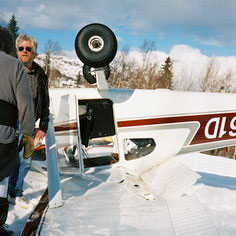 Dear BASINC and anyone working with you...
On behalf of myself, my wife, and four kids, THANK YOU!!!!!!!!!!!!!!! Note attached image of my 1958A 182A's last flight (ref. NTSB prelim AK 4-25-04). I'll send a few more separately. I escaped with minor bruising on my thigh (and a gaping emotional hole from the loss of my plane). Throughout my ride, I VERY DISTINCTLY remember my butt and my back being firmly snugged against my seat (I had the foresight to raise my arm to the ceiling before releasing my buckles!). Without a doubt, I owe my health if not my life to the flawless performance of your inertia belts. I will NEVER own a plane without them at ALL seats.
Again, Thank You from the bottom of my heart.
Robert K. Thornquist MD, Anchorage AK
Incident occurred at Shell Lake, approx. 80 NM NW of Anchorage. I was the only person on board. Approx. 3 1/2 feet of snow with a 1000' stretch with freshly-strewn fireplace ash, cinders, and dirt, apparently spread to melt the snow faster. Looked like gravel showing through a few inches of rotting snow!
---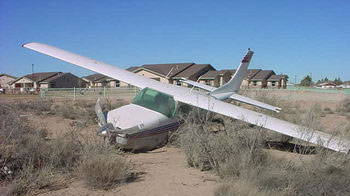 On approach to Demming New Mexico engine lost power after long descent. Too short short of airport, diverted to field to the right of final. Passed thru a field losing the nose gear. Pictures are the result.
John Austin
---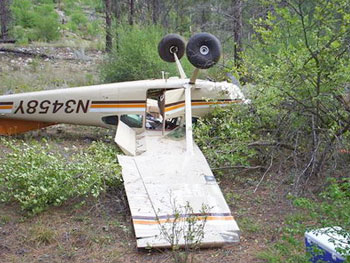 I'll have another testimonial for you shortly. I had your harnesses installed in 2000 in my 1968 180H. I met you in Pagosa Springs.
I crashed my 180 at Wilson Bar, ID, recently. I walked out, but had to camp overnight and wait for rescue. I filed a flight plan, the whole system worked.
Reagan Stone/Santa Fe, NM
---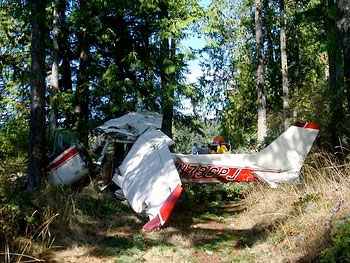 Jim:
It was a clear, but breezy day on September 26. I and a coworker were from flying from Anacortes to our office on Shaw Island (the smallest of the San Juan Islands served by ferry). The strip at Shaw is private, unidirectional (must land to the north and depart to the south), narrow, and lined with tall conifers. The Hanselman Relative Hazard Index is 24.
On short final for the north landing at Shaw, my Cessna 172 Hawk XP was hit by a side gust that tossed me a bit off center line. I immediately corrected and was about 20 feet agl when another unexpected, sudden gust tipped the left wing a good 60 degrees off horizontal. I tried to correct, but by the time the Hawk was level the tree was inevitable. A split second before impact I hit right rudder which placed the nose of the plane a couple of inches to the right of the fir. The tree hit just where the left wing attaches to the fuselage. The forward motion of the plane stopped, we pivoted 180 degrees around the plane and dropped to the ground. I was knocked out at first impact with the tree, but awoke on the ground to the smell of gasoline. I unlatched my harness, did the same to my passenger, grabbed his arm and we exited on his side of the plane. Of course, there were no doors to hinder our escape, since they and the entire engine compartment were separated from the rest of the plane! My passenger had a few minor scrapes and some sore muscles. I broke a rib, arm and pelvis, and had a few stitches in my head.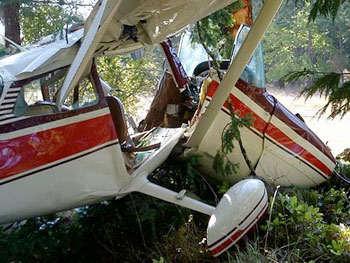 Two things saved our lives from this devastating wreck. First, we missed having the tree slam head on to the engine, which kept it out of our laps. Second, the BAS harnesses performed miraculously. We stayed safely in our seats (even though the seat attachments to the floor were severed) while the plane disintegrated around us. Maintaining this position kept us away from severely jagged Plexiglas, wing parts, etc. After we "landed" we were conscious so that we could escape immediately from the fuel leakage. Also, two days after the wreck I recall commenting to my wife that I had no signs of harm from the harness itself
I returned to the site several days later and noticed that the BAS harnesses were still attached at the roof and floor, and they appeared to still be operational. . . . even after that tremendous impact.
My boss, with 14000 hours of flight time, was amazed that we walked away from that wreck. He too was impressed with the BAS harness and what it did to protect us. So much, that he immediately had a set installed in his daughter's Cessna 172.
By the way, I had thought about buying the BAS harness for over a year, and finally got around to doing it just three months before the wreck. Good timing!
I won't fly another plane without strapping on a BAS harness. I owe my life to them.
Guy Thornburg
---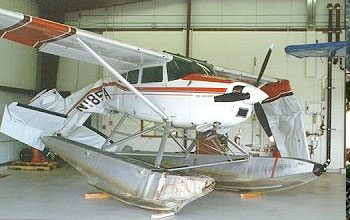 Dear Mr. Blancher,
I spoke with your wife at the AOPA Convention, and promised I would send along some photos of an aircraft which was involved in an accident.
Enclosed find two slides and a print photo of a Cessna 185 which I parked in the White Mountains, north of Fairbanks, Alaska on July 4, 1996. A crankshaft failure at relatively low level resulted in this unplanned arrival. The slides were taken a couple of days after the accident and the print image was taken after the airplane had been helicopter lifted back to Fairbanks.
As you can see, there were some unusual forces involved in this arrival, but as the only occupant, I sustained only some bruises to the backs of my legs, presumably incurred as the airplane tumbled.
This aircraft had a set of your shoulder harness/seat belts installed, and I personally credit the harness for preventing more serious injuries. Just prior to landing, I locked up the shoulder harness by pulling on them, and I leaned into the straps.
The airplane I was assigned as a replacement for the aircraft pictured was still equipped with the stock diagonal shoulder harness. Our maintenance folks didn't argue a bit when I said I really did not want to fly an airplane without a BAS harness system installed. The replacement aircraft was so equipped within a couple of days.
Thanks for designing and building a great piece of safety equipment!
Sincerely,
Michael T. Vivion
Wildlife biologist/pilot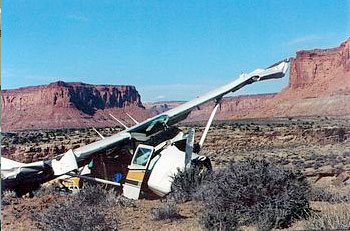 Dear Bud,
Four years ago, when I decided to start flying into the backcountry, I saw an advertisement for your shoulder harnesses. I decided that this was a safety feature that I wanted to add to my aircraft in case a mishap were to occur.
On March 25, 2000, I tested your shoulder harnesses in an accident that could easily have claimed my life and that of my passenger. I was landing in the backcountry of Southern Utah, on a dirt strip in Happy Canyon, where I had previously had safe landings. This canyon is in a completely remote area, containing a uranium mine abandoned in the 1950's. I was flying a Cessna 182, with an IO-520, 300 horsepower engine, which was very well equipped for this type of landing. Upon approach, I was caught in a downdraft from the cliffs surrounding me, which pushed my plane into the ground with incredible force. I tried to power out, but due to the terrain, shortness of runway, and time constraints, the airplane rolled to the left side and the wind caught it again. The force of the wind rolled it 90 degrees to the ground, losing all lift, thus causing it to stall. At this point, I was approximately 50 feet in the air. The aircraft crashed, as the left side smashed into the dirt, cartwheeling upon impact.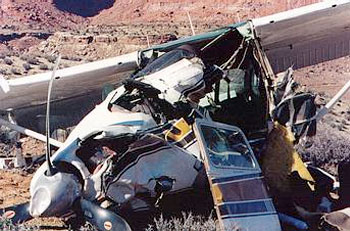 Both my passenger and I were wearing shoulder harnesses manufactured by your company. My passenger in the right seat walked away without a scratch, after being cut out of his harness. As for myself, I ended up with a compound fracture and severely dislocated ankle, three cracked ribs and three broken ribs, and a concussion. Two things that I know for certain are that your shoulder harnesses and the immediate care of those at the scene are the reasons why my passenger and I are alive today. I can guarantee you that every plane I own in the future will indeed be equipped with your harnesses.
I have enclosed some pictures of the crash. I think you will be able to see from the pictures that it is amazing that we survived.
Rex Zollinger
---
---